CNC machining is an economical and effective way to control the machining of machine tools through a computer. Custom CNC machining parts are everywhere. It includes a series of Custom CNC machining services such as CNC turning, CNC milling, 5-axis machining, turning and milling combined machining. Custom CNC machining parts manufacturing includes early conception, design, processing, surface treatment, testing, etc. However, non-customized products are much simpler, just use molds directly to produce them. This article mainly discusses what is custom CNC machining and its application in those industries. I hope you can understand custom CNC machining after reading.
What is custom CNC machining?

Custom machining is the complete process of CNC machine tool processing through the design concept 3D or CAD drawings provided by the customer, after the DFM analysis of the custom CNC machining supplier, and then the engineer writes the CNC code to fill in the CNC machine tool processing. In short, it is the Custom CNC machining process that transforms the customer's design concept into a real product.

Which industries are custom CNC machining used in?
Custom CNC machining has applications in almost every industry, including the electronics industry, communications industry, aerospace, automotive, industrial manufacturing, and medical industries. Are you looking for a supplier of precision custom CNC machining parts? You can choose a custom manufacturer for VMT processing, which can not only customize parts with a tolerance of ±0.01mm, but also process more precise CNC precision parts. VMT Custom CNC machining parts for these industries:
Electronics industry: electronic connectors, closed enclosures, open aluminum enclosures, mobile phone frames, drone supports, mechanical keyboard frames, etc.
Communications industry: communications metal semiconductors, communications cavities, precision connectors, smart communications accessories, etc.
Automobile industry: custom processing of auto parts, motorcycle parts and all required metal parts.
Aerospace: Generally used in application fields such as compressor discs, blades, drums, high-pressure compressor rotors, compressor casings, etc.
Industrial manufacturing: industrial thermometer test tubes, mechanical casings, etc.
Medical industry: precision instrument accessories, auxiliary bracket accessories, and medical device accessories, etc.
In fact, compared with today's day by day development, the need for custom CNC machining is more widely used. You may need gears of non-standard sizes and materials, or new projects that are still under development, and need to be Custom CNC machining production.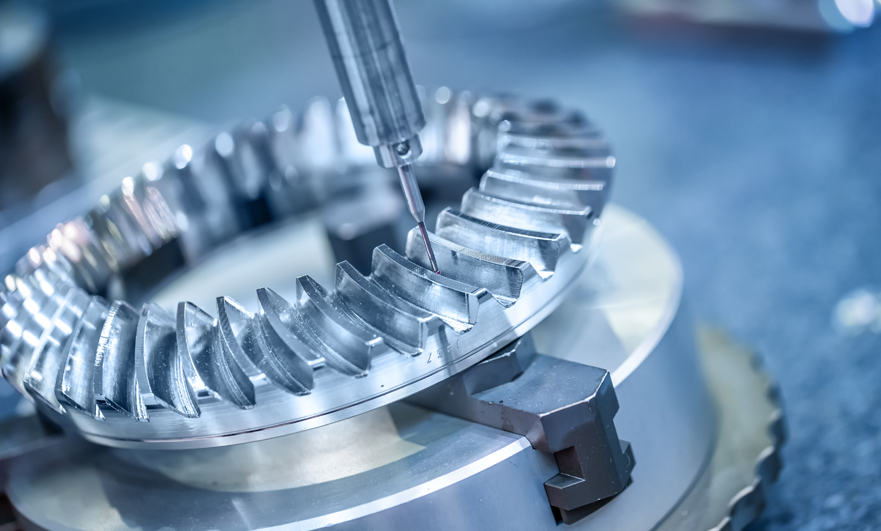 Advantages of custom CNC machining
1. Versatility: custom CNC machining can create any component. Various assembly accessories can be flexibly customized to further enhance the uniqueness of the produced products.
2. Lower cost: The customized CNC processing machine runs at high speed with high efficiency and precision. This also means that the processing time is short, and the customized CNC processing is controlled by the digital system to save the cost of the personnel.
3. High precision: CNC digital components and automatic processing reduce data errors caused by human intervention.
4. Variety of materials: There are more than fifty kinds of customizable materials, such as stainless steel 304, aluminum 6061, etc., to meet all the needs of Custom CNC machining materials.
5. Beautiful customization: Available for a variety of anodic oxidation surface treatments, such as: anodic oxidation, electrophoresis, sandblasting, electroplating, PVD, corrosion and so on. While satisfying the aesthetics, it can also improve the durability and corrosion resistance of customized CNC machined parts.
6. Quality assurance: the production value of custom-made parts in each batch of intervals is maintained, which reduces the differentiation of parts.
Why did you choose us?
If you want to know how to gain benefits from CNC custom machining, then you will choose VMT to undertake the benefits of a global custom CNC machining and manufacturing company.
1. DFM analysis
Before starting the Custom CNC machining, we will conduct DFM analysis, so that customers can reduce the consumption of machining costs and solve the problems they will encounter in the process in time.
2. Quality assurance
We have passed the ISO quality system certification, and have engineers with more than 11 years of experience in Custom CNC machining and manufacturing to ensure the quality of the parts. At the same time, we also guarantee IQC-FQC-OQC, PPAP.CPK and other quality indicators.
3. Even if quoted
It all starts with the parts you need to design in 2D or 3D CAD. Send the file to us and we will quote for Custom CNC machining parts in a short time.
4. Material certification
After ordering the materials, we will conduct random inspections of materials to ensure that the material size and thickness of the custom processed parts are suitable for processing, and conduct material certification. Provide you with information about the characteristics of materials used for custom processing.
Summarize
VMT passed the ISO9001 quality system and SGS on-site factory audit in 2015. A custom CNC machining manufacturer dedicated to delivering small batches of parts within 24 hours. In the past 11 years, VMT's business has spread to 62 countries around the world, covering military, medical, semiconductor, automotive and other fields.