A CNC machining part needs to be designed before processing and production, and CNC machining rapid prototyping design is the basic element. The traditional rapid prototyping of CNC machining needs to explore and verify with users when the team builds new products or functions. However, when implementing prototype manufacturing, various problems will always be encountered, which consumes time. Rapid prototyping provides many advantages and applications that make it different from traditional CNC machining rapid prototyping manufacturing. This article mainly talks about the knowledge of rapid prototyping, if you are interested, you can continue reading.
What is CNC machining rapid prototyping?
Rapid prototyping design is a new term. In its simplest form, after simple and rapid analysis, CNC machining rapid prototype manufacturing is realized. Users and developers strengthen communication and feedback during the trial prototype process, reduce errors, make up for deficiencies, and adapt to changes through repeated evaluation and improvement of the prototype. Improve the quality of prototypes of CNC machined parts. The purpose and method of using CNC machining rapid prototyping are different, and different strategies are also adopted when using prototype manufacturing, including abandoning strategies and additional strategies.
Five factors that need to be considered in the rapid prototyping design of CNC machining

Because the CNC machining rapid prototype is the first version of the final product, it is used to evaluate the design, test technology or analyze the working principle, and provide product specifications for the real working system. Therefore, we need to analyze the rapid prototyping of CNC machined parts from the five factors of purpose, quality, quantity, complexity and cost.

What are the types of rapid prototyping for CNC machining?
According to the needs of CNC machining rapid prototyping and the technology to be achieved, we can be divided into high-precision prototype manufacturing, low-fidelity prototypes, and high-fidelity prototypes.
High-precision CNC machining rapid prototyping manufacturing
This type of prototype does not necessarily need to reach the specified final product. Because of its different functions, appearance, user scenarios and sizes, high-precision prototypes that can be flexibly adjusted according to actual uses are required.
Low-fidelity prototype
Such prototypes often require relatively low requirements, simple and fast production. To perfect the prototype for the purpose of testing.
High-fidelity prototype
Such prototypes need to be close to or reach the designated final product. The requirements and costs are high.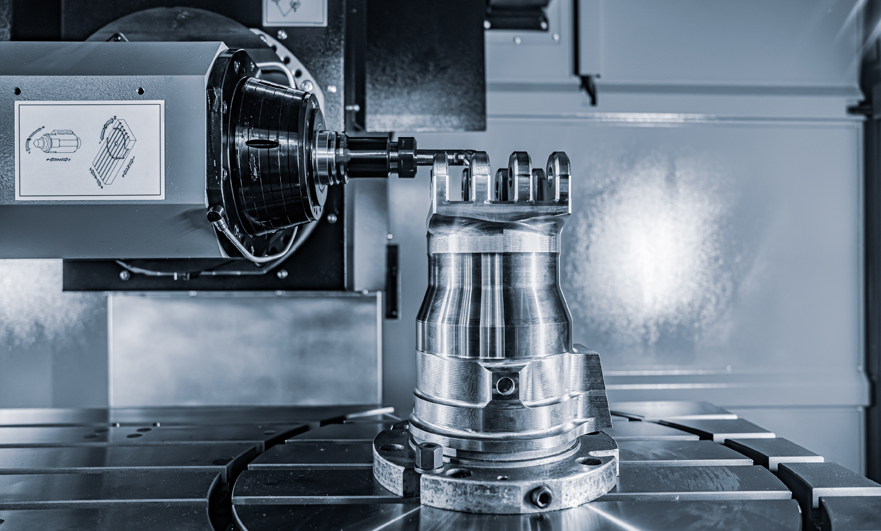 The NPD Process of CNC Machining Rapid Prototyping
Proof of the practicability of the conceptual prototype—the demonstration of the conceptual model—the analysis of the functional prototype—the aesthetic design of the appearance—custom processing samples.
Advantages and disadvantages of CNC machining rapid prototyping
Advantage:
1. The ability to explore and implement concepts faster. The rapid prototyping time and cost efficiency of CNC machining enable the team to go beyond pure product visualization, making it easier to grasp the characteristics and design of the product;
2. Fast proofing allows functional testing, so that you can control whether the final product is suitable for the application scenario;
3. Save time and money, because settings and modules are not necessary. Since the same equipment can be used to produce CNC machining rapid prototyping with different properties and materials, the cost and time expenditure will be kept to a minimum;
4. Earlier detection of existing risks and practicability, reduce or eliminate unnecessary losses.

Shortcoming:
1. The lack of accuracy increases the initial cost;
2. Some CNC machining rapid prototypes are expensive and uneconomical, and material properties such as surface and strength cannot be matched;
3. Increase personnel consumption and excessive labor;
4. The range of usable materials is limited, and some key functions cannot be prototyped.
Application of NC Machining Rapid Prototyping
1. Verification of ideas and ideas: The conceptual model provides an opportunity for CNC machining rapid prototyping designers to verify their ideas and assumptions behind them. Physical concept models are an ideal way to explore concepts, show their effectiveness to stakeholders, or create communication around concepts.
2. Market research: A certain degree of research can be conducted on the product market, and the value of the product can be estimated in advance.
3. Functional application: product fit, design, manufacturability and function can be tested before moving it to full production mode, which is an infinitely high cost process. Functional CNC machining rapid prototyping enables designers and developers to master the details, thereby verifying the effectiveness before completing the product and entering the next stage, thereby accurately representing the finished product.