If you see here, you are welcome to visit our website. This website is designed for you to quickly understand CNC machining technology and custom CNC machining parts. Next, VMT will take you to browse our website to improve your CNC machining productivity.
Different from other CNC machining websites, our website displays real custom CNC machining parts made by customers, including CNC machining services, material selection, machining design guidelines, surface finish, industry-related knowledge, etc.

How to browse the content of the website and get the information you want?
1. Familiar with the general content of the website
Select the pages on the navigation bar according to your interests. Each page has a clear classification and can be clicked at will. The content is published based on the real situation of VMT company and the real information of serving customers. For example, our services are divided into CNC machining, turning machining, 5-axis CNC machining, surface treatment, etc., so that visitors can easily find the content and needs of their interest through classification. If the writing is not clear enough, you can use Whatapp, Stype, WeChat, Tidio manual customer service contact us, 24 hours online.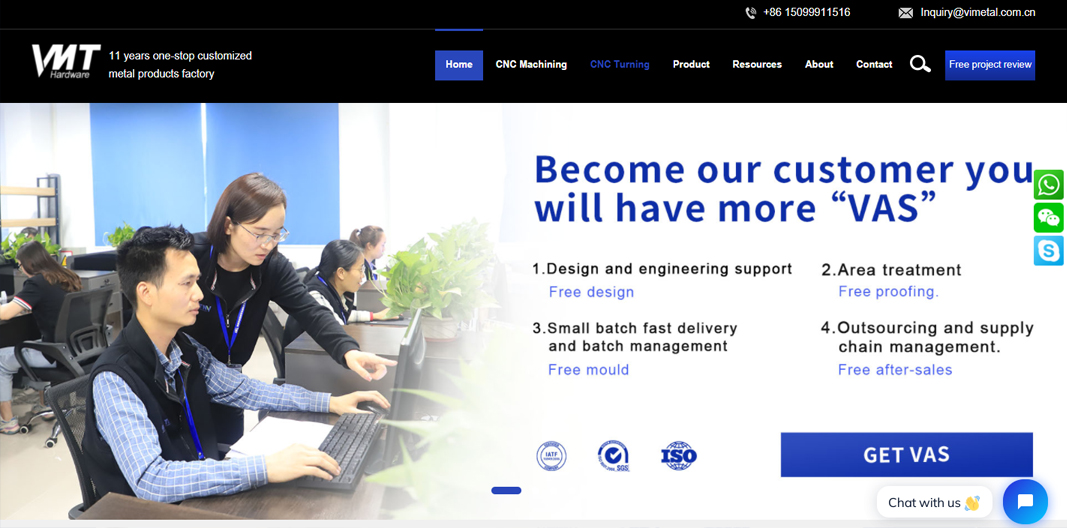 2. View of VMT real custom CNC machining parts
Our website processes and manufactures parts for global customers, including materials, surface treatments, etc. Visitors can get detailed information about the products listed on this website, allowing you to fully understand our manufacturing capabilities, quality levels, surface finish, etc., effectively To help you make decisions about custom CNC machining parts manufacturing.
3. Understand the case of the website company
Check the customized CNC machining case on the website, understand the company's CNC machining capabilities, and further understand the VMT company's CNC machining process, to determine whether we are a trader or a customized data processing factory?
4. Customized CNC machining design capabilities
Before the development of a new project, it is the most difficult to design custom CNC machining parts. It is necessary to determine the usability, tolerances and processing costs of the parts, and determine the appropriate processing methods. You can check the data processing design guide article on the VMT website to let you know how we customize CNC machining parts, and we can also provide you with drawing design and DFM analysis to reduce the cost of custom CNC machining parts.
5. Covered custom CNC machining fields and products
Through the product column, you can understand that we are the main processing industry and products. At present, our business covers 62 countries around the world, covering different fields such as electronics, military, medical, semiconductor, automotive, and industry. The product columns are all custom CNC machining parts that we produce samples and mass-produce for customers. Some parts have a confidentiality agreement and cannot be displayed. VMT is not limited to processing these parts. You can send us drawings via [email protected] We will reply you as soon as possible and give you the best customized CNC machining plan.
6. Site search and telephone contact
According to the information you want to quickly obtain, you can search inside our website to help you find the information you need. But the most direct and effective way is to contact you by phone. One of your calls will give you the best answer.
in conclusion
If you want to know about the VMT custom CNC machining factory, you can get a preliminary understanding through the VMT Google website, and then communicate through Whatapp, Stype, WeChat, tidio manual customer service, [email protected] email or phone contact to determine whether we are yours The best partner? To improve the manufacturing efficiency of CNC machining parts for you.