I believe that no one in the CNC machining parts industry does not know IOS9001 certification, because every good CNC machining parts manufacturer will carry out IOS9001 certification. ISO9001 certification represents the guarantee of the quality system. If you are looking for a reliable manufacturer of CNC machined parts, then ISO9001 certification is necessary because they prove that the manufacturer of CNC machined parts has the ability to provide parts that meet customer requirements and applicable regulatory requirements.
What is ISO9001?
ISO9001 is an international standard formulated by TC176 (Quality Management System Technical Committee) and is transformed from the world's first quality management system standard BS5750 (written by BSI). It not only sets standards for the quality management system, but also for the overall management system.
ISO9001 certification is a series of quality control methods that provide the necessary framework for the company to develop, and it is also a formal basic certification for manufacturers of CNC machined parts.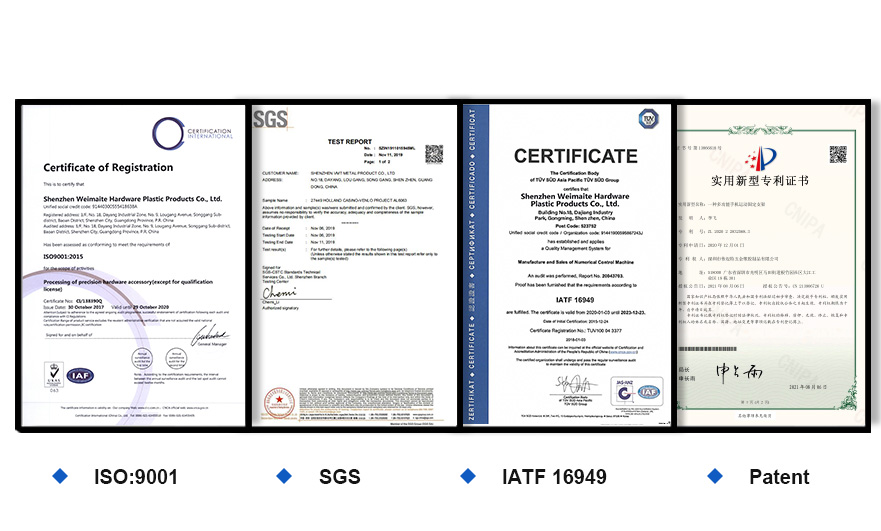 Why do CNC machining parts manufacturers need ISO9001 certification?
There are the following points for why manufacturers of CNC machining parts need IOS9001 certification:
1. The object of ISO9001 certification is the company's quality system. The object of quality system certification is not a certain product or service of the company, but the ISO9001 quality system certification itself.
2. The approved mark of ISO9001 certification is registration and issuance of certificates. The quality system that applies for certification in accordance with the prescribed procedures, when the evaluation result is judged as qualified, the certification body will issue a certificate to the certified company, which will be included in the list of manufacturers of CNC machined parts certified by the quality system and published.
3. ISO9001 certification is based on quality assurance standards. Quality system certification is often required by the supplier in order to provide quality assurance to the outside world, so the certification is based on the relevant quality assurance model standards.
4. The ISO9001 certified organization is a third-party quality system evaluation organization. In order for the supplier's quality system certification to be fair and credible, the certification must be undertaken by a third-party organization that has no economic interest in the certified unit (supplier) and has no administrative affiliation.
5. ISO9001 certification is the independent behavior of manufacturers of CNC machining parts. Product quality certification can be divided into two categories: safety certification and quality certification. Among them, safety certification is often a compulsory certification. Quality system certification is mainly to improve the quality and reputation of CNC machined parts manufacturers and expand sales. Generally, enterprises voluntarily and proactively apply for it, which is an independent behavior of the enterprise.
Summarize
If a CNC machined parts manufacturer does not have IOS9001 certification, then they are not a good partner. If you are looking for a CNC machined parts manufacturing partner, then VMT is your best choice, with SGS on-site factory audit, ISO9001 quality system certification, IATF:16949 certification and so on. We have 160 sets of CNC machining equipment, which can undertake 5-axis CNC machining, 3-axis CNC machining, turning and milling combined machining services. Looking forward to working with you.